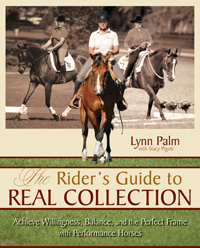 A Rider's Guide to Real Collection
$29.95
$25.46 On Sale!
You Save
A Rider's Guide to Real Collection More Details
Achieve Willingness, Balance, and the Perfect Frame with Performance HorsesLynn Palm
Collection is one of the most misunderstood concepts in Western and English riding. Everyone wants it, but few people know how to get it. World-class rider, trainer, and clinician Lynn Palm now offers the one and only book that explains away the mysteries of collection while telling you exactly how to attain it. With 40 years experience riding and training champion all-around performance horses, and a background in dressage, Lynn has perfected an easy-to-use system of exercises that gradually collect any type of horse, regardless of his build, and that are of particular value to stock horse breeds such as Quarter Horses, Paints, and Appaloosas.