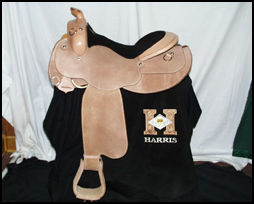 Lynn Palm Western Dressage Saddle
Price $3,450.00
Lynn Palm Western Dressage Saddle More Details
Lynn is hearing of so much interest in the new and exciting discipline of Western Dressage. The saddle that she has designed with Phil Harris is a schooling saddle. You can work together with Lynn and design a show saddle as well. Of course you can compete in the saddle pictured, you would just need to dress very casual for the show ring.
Read more about the features:
Lightweight tree that fits broad shouldered horses

Quality Leather that is very soft and flexible

Deep seat for comfort and confidence

Non fixed fenders for freedom of movement when using leg aids

Contoured upper flap to allow legs to hang long

Thin leather for close contact to horse

Available in round or square skirts

Roughout leather for close contact to saddle

Custom, handmade saddle

Some sizes in stock, out of stock orders available in 12-14 weeks
Both you and your horse are sure to appreciate the many benefits of this comfortable, close contact saddle with the classy look of a high dollar saddle. Not only is this saddle extremely attractive, but you'll rest easy knowing it is crafted of the best materials and built to last, as well as to help improve your riding.

Harris Leather was the first saddle maker to design the close contact cut-away under the skirt, which allows the rider's leg to make closer contact with the horse. Now, over 90% of saddle companies and custom saddle makers have copied this highly effective design. In addition, the upper skirt is tapered to allow the rider's thigh to remain in close contact with the horse, while allowing the leg to hang long.

Settle into the saddle and you'll immediately notice the deep, secure seat allows you to sit naturally and comfortably on your seat bones. Designed to be the ideal combination seat for Equitation and Pleasure, this saddle puts you where you belong: not too far forward or too far back.

Soft, tanned leather on the fenders give that feel of "broke-in" leather from the very first ride, and the natural twist to the fenders enable them to mold to your leg. Thinner leather in the fenders offers the desired close contact and increased opportunity for better leg aids communication with the horse.

Rounded saddle skirts offer a perfect fit and a streamlined look for short-backed horses. The rounded skirts also make for a lighter weight saddle, perfect for us women riders, as well as young horses! You'll find handy rings on the pommel and back skirts where you can attach additional equipment for trail riding or working.

The entire saddle is built on a rawhide-covered, hardwood tree that is especially designed to fit all horse breeds, and meticulously balanced to stay in the horse's center of gravity.

Sales Tax applies to all saddle purchases
Deposit required for all orders. Payment plans available.