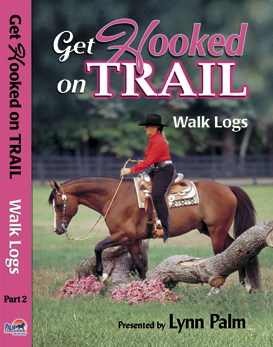 Get Hooked On Trail--Part 2 Walk Logs
Price $29.95
More Details
Other items you might want to order:
Get Hooked On Trail--Part 2 Walk Logs More Details
Get Hooked On Trail--Part 2 Walk Logs

In this DVD, you will find many ways to train with walk poles in several combinations. Lynn will get you "hooked" on competing in the most popular event in the show ring: TRAIL. Whether you are competing at the Novice level or the World Show, Lynn will cover many show ring tips to polish your walk log obstacles.

Most riders complain that their horses always "tick" the walk logs. Why? The rider has to precisely control the speed and direction at the walk. The challenge of walking over poles is that you don't have the forward motion to be careful like you have at the trot and lope. Lynn will show you how not to be a passenger at the walk by controlling the speed and direction.

Horses love training with poles on the ground. It keeps them interested in their training, whether riding a young horse under saddle or an older seasoned horse. If you want more control on the trails and have your horse walk logs, rather then jumping them, this training is for you too! Make your horse happy and have fun with this training!
Get Hooked On Trail--Part 2 Walk Logs Other items you might want to order:

Training and/or Show Reins
Price $40.00