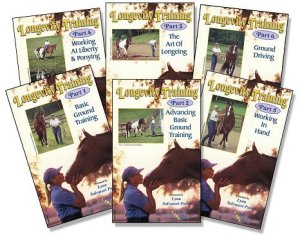 Longevity Training Series (6 Parts)
Price $179.95
More Details
Other items you might want to order:
Longevity Training Series (6 Parts) More Details
In this DVD series you will find my secrets for teaching obedience, manners, trust and acceptance -- simple ground training techniques to teach your horse how to trust and to respect you. The techniques apply to weanling, yearling, or any aged horse.


--LSP

This Video Series Includes -
Part 1 - Basic Ground Training
Part 2- Advanced Basic Ground Training
Part 3 - Working In Hand
Part 4 - Working At Liberty & Ponying
Part 5 - The Art Of Longeing
Part 6 - Ground Driving

LYNN RECOMMENDS: This series compliments the Dressage Principles Volume I Series if you are training a young horse from the beginning on the ground and under saddle. Parts 1-3 can be used for a weanling, yearling and two year old. Parts 4-6 are geared more toward the 2 and 3 year old horses. However, the whole series can be used to retrain an older horse. The Longevity Training on the ground relates to everything needed under saddle to improve the horse's training.
Longevity Training Series (6 Parts) Other items you might want to order: