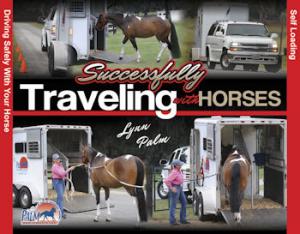 Successfully Traveling With Horses
$60.00
$30.00 On Sale!
You Save
Successfully Traveling With Horses More Details
In her new 4 part DVD series, Successfully Traveling with Horses, Palm captured the most important tips that she compiled over the last four decades of traveling with horses.
For many horse owners the thought of loading, unloading and driving their horses is intimidating and stressful. In her new series, Palm demonstrates simple ways to overcome loading difficulties and lets out her secret to "self loading". At the same time, she offers tips for defensive driving as well as how to handle an emergency on the road.
Whether horse owners are traveling for competition, pleasure riding or a routine trip to the vet, they are sure to draw from the tips in Palm's newest DVD series. From the first steps of stress free loading to backing the trailer safely and easily, Palm highlights tips that will spell safety and confidence for any driver.