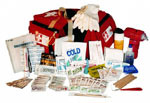 Complete First Aid Kits: Trail Riding
Price $105.00
Complete First Aid Kits: Trail Riding More Details
COMPLETE HORN BAG TRAIL RIDING KIT $105.00
RETAIL VALUE: $120.00

Featuring 35 different products and 130 items. Kit Measurements (Each Side): 9" high, 8" wide, 3.5" deep / 4.9 pounds. Rated to service from one to three horses and riders. Recommended by Lynn Palm.

"When I am traveling with horses, training horses at home or on a trail ride, I feel good knowing that I have EquiMedic first aid kits on hand! All riders / trainers should have a kit on hand at all times!"

- Lynn Palm
Palm Partnership Training

Trail Riding Soft Sided Horn Bag
long handled Q-Tips (APP001)
medical towels (APP002)
wood applicators (APP003)
non-sterile gauze pads (BND001)
sterile gauze pads (BND002)
non-adherent gauze pads (BND003)
3M Vetrap Bandaging Tape (BND004)
alcohol wipes (CLN001)
hand sanitizing towelettes (CLN002)
iodine povidone swabsticks (CLN003)
four ounce eye wash (CLN004)
flashlight (EQM001)
latex gloves (EQM002)
hoof pick (EQM003)
latex tourniquet (EQM004)
pocket scalpel (EQM005)
wrap cutter (EQM013)
compass (EQM014)
Ultra Shield insect towelettes (FLY001)
double aspirin packets (HUM001)
double ibuprofin packets (HUM002)
antibiotic foil pouches (HUM003)
double antacid packets (HUM004)
hydrocortisone foil pouches (HUM005)
Bio-Freeze anti-pain pouches (HUM006)
Blistex foil pouches (HUM007)
sting relief wipes (HUM008)
insect repellent foil pouches (HUM009)
sunscreen towelettes (HUM010)
WaterJel burn pouches (HUM011)
three quarter inch adhesive bandages (HUM012)
one inch adhesive bandages (HUM013)
small instant cold pack (TOP001)
six ounce bloodstop (WND001)


Don't hit the trail this season without it: EquiMedic's small Horn Bag Trail Riding Kit. Designed for the day trail rider in small groups, this kit is complete with every thing that the horse and rider might need while out on the trail, away from camp, the trailer or the barn. All supplies for people and horse fit conveniently into this handy horn bag.

Made of durable, heavy polyester fabric that is back with a water resistant self liner, this well designed horn bag offers a large pouch to hang on either side of your saddle horn, zippered compartments in both flaps, one side is divided. There are several outside pockets in this horn bag medical kit, one for your necessary flashlight, and a convenient snap loop to keep your hoof pick quickly accessible.

Emergencies can happen to either the rider or the horse, or both while out on the trail. You might be hours away from medical assistance, and could suffer needless pain and agony if you are not prepared as best you can be. Let EquiMedic USA ride along on your next trail ride, and ride with the peace of mind that you carry the essentials for both you and your horse in case of need.