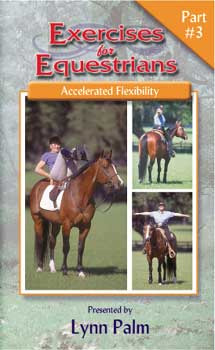 Exercises for Equestrians - Part 3
Price $39.95
Exercises for Equestrians - Part 3 More Details
Exercises for Equestrians - Part 3: Accelerated Flexibility

Palm Partnership Training congratulates you on advancing to this step! The advanced exercises in this DVD will help you specifically improve weak areas of your body and achieve joint flexibility needed to increase suppleness and strengthen muscles in these areas.

Accelerated Flexibility includes my most challenging exercises. My goal is to help you refine a correct balanced position with total coordination of your body. The most challenging exercise will enable you to open your hip joint to sit deeper and closer to the horse and gain even more balance. I have added a specific segment about pelvic flexibility to help you understand the proper pelvic motion essential to using the seat as an aid. The exercises in this DVD are more challenging physically and build on the progression introduced in Parts 1 and 2. They will also bring rewarding results if practiced on a regular basis.

I can't tell you how much exercises are important for riders of all ages. They are essential for development of the young rider's coordination. For adult riders, regular use of these exercises is essential to preventing sore muscles, keeping the joints working, strengthening the muscles, and keeping the body in shape. These are a must for your longevity as a rider!

--Lynn

Time: 35 minutes

LYNN RECOMMENDS: This is a series for all riders to improve balance, comfort and coordination. Over 90 different exercises are featured both on the ground and under saddle. Part 1 is great to improve balance and relaxation while Part 2 stretches and strengthens muscles. Part 3 focuses on increased flexibility. This series will benefit all riders—from the recreational rider to the show ring competitor!