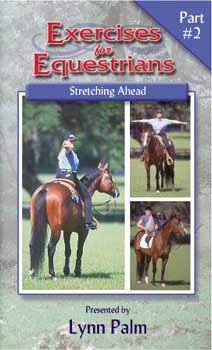 Exercises for Equestrians - Part 2
Price $39.95
Exercises for Equestrians - Part 2 More Details
Exercises for Equestrians - Part 2: Stretching Ahead

Palm Partnership Training is excited to keep you Stretching Ahead with exercises that will build a correct riding position. I will take you to the next step to give you more strength, suppleness and flexibility in your riding. This DVD includes stretching exercises to do as a warm up before riding and under saddle.

Stretching Ahead builds on the lessons in Part 1 and introduces new exercises. It will improve balance and body coordination. In this DVD, I emphasize increasing stretching of the spine plus hip and arm joint flexibility. You'll find similar exercises in Parts 1 and 3 because they are essential to the progression.

The exercises in Stretching Ahead include a very important area for the rider's relaxation: the muscles in the shoulder area. Leg muscle stretching is also demonstrated. More difficult exercises focus on the flexibility of the spine, hips, shoulder, elbow, wrists, and fingers.

You will love this progression of exercises. I use them every time I ride!

--Lynn

LYNN RECOMMENDS: This is a series for all riders to improve balance, comfort and coordination. Over 90 different exercises are featured both on the ground and under saddle. Part 1 is great to improve balance and relaxation while Part 2 stretches and strengthens muscles. Part 3 focuses on increased flexibility. This series will benefit all riders—from the recreational rider to the show ring competitor!