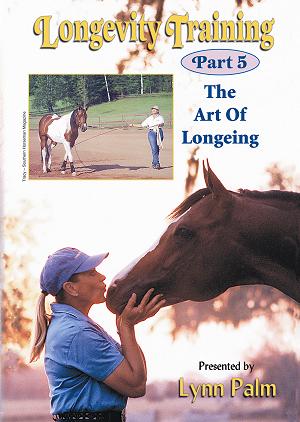 Longevity Training - Part 5
Price $39.95
More Details
Other items you might want to order:
Longevity Training - Part 5 More Details
Part 5: The Art of Longeing

Longeing can be a very valuable tool in your horse's training. When properly executed, a structured longeing session can further your horse's fitness and conditioning as well as solidify his response to your body position and verbal commands.

Work on the longe line can be beneficial in introducing a horse to new surroundings in addition to improving his body position on a circle or straight line, thus putting him in proper balance. While asking for different speeds and gaits, longeing will allow you to evaluate your horse's attitude, responsiveness and movement before you begin any work under saddle.

In this DVD, Lynn will demonstrate how such subtleties as the handler's body position and tone of voice will affect a horse's response on the longe line. Lynn will also show how instrumental the longe line and the longe whip are in achieving the utmost control and responsiveness.

Longeing is yet another step in strengthening the bond between you and your horse. That bond will become stronger as you achieve a good balance and clear communication while longeing.

Time: 36 minutes

LYNN RECOMMENDS: This series compliments the Dressage Principles Volume I Series if you are training a young horse from the beginning on the ground and under saddle. Parts 1-3 can be used for a weanling, yearling and two year old. Parts 4-6 are geared more toward the 2 and 3 year old horses. However, the whole series can be used to retrain an older horse. The Longevity Training on the ground relates to everything needed under saddle to improve the horse's training.
Longevity Training - Part 5 Other items you might want to order:

Dressage Principles Volume I - Part 2
Price $39.95

Hunter Under Saddle
Reg. Price $39.95
$25.97 On Sale!

Longevity Training - Part 4
Price $39.95