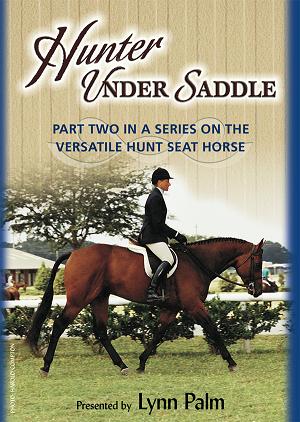 Hunter Under Saddle
$39.95
$25.97 On Sale!
You Save
More Details
Other items you might want to order:
Hunter Under Saddle More Details
Hunter Under Saddle is the second DVD of Lynn Salvatori Palm's series on the versatile Hunt Seat Horse. A consistent winner of World and National Championships, Lynn is established as one of the leading trainers, instructors and competitors in the horse industry today. With wins too many to list, the Hunter Under Saddle event is certainly one of Lynn's specialties.

Starting at the very beginning, this DVD gives you an understanding of the evaluation process required to select the kind of horse suitable for the Hunter Under Saddle event. You'll learn training techniques used to help your horse accept what he needs to know, and how to evaluate his progress. You gain knowledge of a horse's natural response, how to control his pace, along with exercises to help correct problem horses.

For the serious rider, "Hunter Under Saddle" provides important information on body position and balance. This, along with techniques on response and control, help to set you aside from the rest, and to get the best performance out of your horse. In conclusion, Lynn offers the rider valuable show ring techniques and warm-up plans, along with important show ring strategy.

Hunter Under Saddle, the second DVD in Lynn's "Versatile Hunt Seat Horse" Series, shares the secrets to success in a highly competitive, and precise event.

LYNN RECOMMENDS: This DVD will benefit anyone who is training a horse or who wants to compete in Hunter Under Saddle. Choosing a performance horse, starting a yearling though ground training and under saddle training with an older horse are all covered in this DVD. Following this progression can assist in retraining an older horse to achieve a natural uphill balance. There are also lots of show ring tips from Lynn!
Hunter Under Saddle Other items you might want to order: