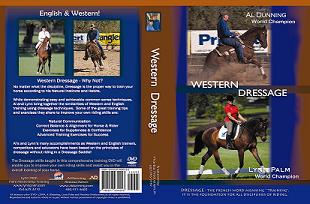 Western Dressage by Lynn Palm with Al Dunning
$39.95
$33.96 On Sale!
You Save
More Details
Other items you might want to order:
Western Dressage by Lynn Palm with Al Dunning More Details
Western Dressage – Why Not?

No matter what the discipline, Dressage is the proper way to train your horse according to his natural instincts and habits. While demonstrating easy and achievable common sense techniques, Al and Lynn bring together the similarities of Western and English training using dressage techniques.

Al's and Lynn's many accomplishments as Western and English trainers, competitors and educators have been based on the principles of dressage without riding in a Dressage saddle!

The Dressage skills taught in this comprehensive training DVD will enable you to improve your own riding skills and assist you in the overall training of your horse.
Western Dressage by Lynn Palm with Al Dunning Other items you might want to order: