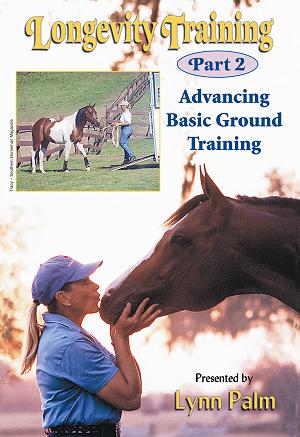 Longevity Training - Part 2
Price $39.95
More Details
Other items you might want to order:
Longevity Training - Part 2 More Details
Part 2: Advancing Basic Ground Training

In this DVD Lynn will show you how to refine your voice commands, the cues from your lead shank, the hand signals, and your body position to obtain your horse's full attention and total cooperation. Lynn will demonstrate teaching your horse to be tied without resistance, to be clipped without stress, to be brushed without moving, and to always be willing to give you his feet. Follow Lynn's tips and you will make bathing a pleasant experience for your horse!

In the final portion of this DVD, Lynn will help you avoid the dreaded "trailer loading session" we have all experienced. She explains and demonstrates non-forceful and safe techniques to get your horse to load without resistance.

In this DVD you will not only learn how to strengthen your horse's acceptance and obedienc - - you will also learn how to establish and maintain a bond with him that will last forever.

Time: 90 minutes

LYNN RECOMMENDS: This series compliments the Dressage Principles Volume I Series if you are training a young horse from the beginning on the ground and under saddle. Parts 1-3 can be used for a weanling, yearling and two year old. Parts 4-6 are geared more toward the 2 and 3 year old horses. However, the whole series can be used to retrain an older horse. The Longevity Training on the ground relates to everything needed under saddle to improve the horse's training.
Longevity Training - Part 2 Other items you might want to order: