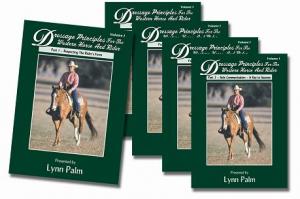 Dressage Principles Volume I Series (5 Parts)
Price $149.95
More Details
Other items you might want to order:
Dressage Principles Volume I Series (5 Parts) More Details
Dressage Principles Volume I Series (5 parts) for the Western Horse & Rider.

Why is the rider's form so essential to build a rider's skills? Because of relaxation and balance. A rider's position is not a molded form, set rigidly on a horse for the purpose of looking pretty. The rider must position his body in order to follow at all times, and without interference, the horse's every movement and reaction. Through the proper form, the rider can achieve a state of balance which will allow him to feel relaxed and in command of his body, and not interfere with the horse's balance and his responses to the rider. As you practice seriously to condition your body, and utilize exercises to become more supple and flexible, your form becomes centered, balanced, and relaxed. Most importantly, you can coordinate your body parts and mind independently. This is the first step in building articulate communication and willing responses from your horse. My Dressage Principles DVDs will teach you to communicate with your horse and to gain willing and appropriate responses from him.

This 5 part series includes:
Part 1 - Respecting The Rider's Proper
Part 2- Aids Communication... A Key To Success
Part 3 - Developing Natural Balance
Part 4 - On Your Way To Collection
Part 5 - Advanced Collection

LYNN RECOMMENDS: This series is recommended for all riders regardless of skill level or riding interest. Part 1 will assist the beginning rider in finding his balance or the more advanced rider in achieving perfect balance. Part 2 will hone the rider's aids communication including the use of the seat, leg and rein aids. With the proper use of the natural aids, the horse will respond with lightness, acceptance and confidence. Parts 3, 4 and 5 apply to training a young horse under saddle or retraining an older horse to respond with more confidence and control. Part 3 is a great introduction to taking proper leads and the canter itself. Part 4 is great to improve transitions and speed control in all three gaits. Part 5 will begin and advance collection with lateral training, counter canter and simple and flying lead changes. Dressage Principles for the Western Horse and Rider demonstrates the epitome of Palm Partnership Training—using Dressage Principles for all breeds of horses and all levels of riders.
Dressage Principles Volume I Series (5 Parts) Other items you might want to order: