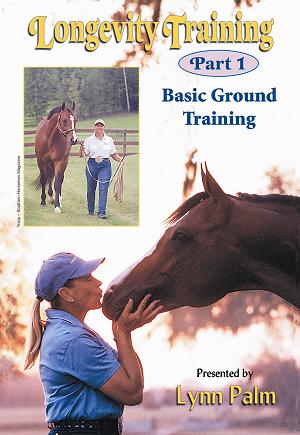 Longevity Training - Part 1
Price $39.95
More Details
Other items you might want to order:
Longevity Training - Part 1 More Details
Longevity Training - Part 1

In this DVD you will find simple ground training techniques to teach your horse how to trust and to respect you. The techniques apply to weanling, yearling, or any aged horse.

Lynn will demonstrate how to use consistent voice commands, and how to position yourself to be safe and gain control of your horse. She will use a confined area to teach the horse the beginning of correct leading, stopping, backing, ground tying, moving away from pressure, and coming to you.

If your horse is difficult to catch in a pasture, paddock or a stall, or has had bad habits, Lynn can help! In this tape she provides non-forceful and logical suggestions to easily conquer these bad habits. A horse with learned quiet stall manners is a happy and healthy horse.

Lynn is very proud to share with you the ground training methods that she has used throughout the years to bring out the best in her horses. There is no better reward than your horse respecting and trusting you. This is also the greatest foundation that you can give your horse for a very successful future under saddle!

Time: 55 minutes

LYNN RECOMMENDS: This series compliments the Dressage Principles Volume I Series if you are training a young horse from the beginning on the ground and under saddle. Parts 1-3 can be used for a weanling, yearling and two year old. Parts 4-6 are geared more toward the 2 and 3 year old horses. However, the whole series can be used to retrain an older horse. The Longevity Training on the ground relates to everything needed under saddle to improve the horse's training.
Longevity Training - Part 1 Other items you might want to order: