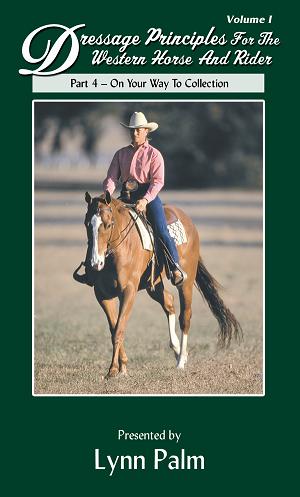 Dressage Principles Volume I - Part 4 DD
$34.00
$22.10 On Sale!
You Save
More Details
Other items you might want to order:
Dressage Principles Volume I - Part 4 DD More Details
Part 4: On Your Way to Collection

In this DVD, your horse continues his training in the snaffle. Building your basics with DRESSAGE PRINCIPLES will teach your horse natural balance and self carriage. It will also get him to relax his mind and body in all 3 gaits. You'll now work on lengthening and shortening your horse's stride. You establish three speeds in the walk, trot, and canter, that you can regulate without resistance from your horse. When he responds softly, remains relaxed and without resistance to the rider's natural aids, he is understanding what you want!

You will promote bending to increase suppleness and flexibility, and you will also improve his balance by gaining better control of his body position. Transitions on straight lines, more advanced lateral training, and building more roundness in your horse's frame are all the beginnings to being "ON YOUR WAY TO COLLECTION."

The variety of lessons and patterns in this DVD will teach you to read your horse by analyzing his responses and balance. Let your horse "tell you" to go back to simpler lessons to get more solid, or when you have willingness, continue with more advanced work. Give your horse a solid foundation - by completing these stages, your pleasure horse will be prepared for the disciplines and challenges of competition. Don't forget to have fun with your horse in these stages - drilling or training alone will not build a solid, lasting foundation.

Time: 51 minutes

LYNN RECOMMENDS: This series is recommended for all riders regardless of skill level or riding interest. Part 1 will assist the beginning rider in finding his balance or the more advanced rider in achieving perfect balance. Part 2 will hone the rider's aids communication including the use of the seat, leg and rein aids. With the proper use of the natural aids, the horse will respond with lightness, acceptance and confidence. Parts 3, 4 and 5 apply to training a young horse under saddle or retraining an older horse to respond with more confidence and control. Part 3 is a great introduction to taking proper leads and the canter itself. Part 4 is great to improve transitions and speed control in all three gaits. Part 5 will begin and advance collection with lateral training, counter canter and simple and flying lead changes. Dressage Principles for the Western Horse and Rider demonstrates the epitome of Palm Partnership Training—using Dressage Principles for all breeds of horses and all levels of riders.
Dressage Principles Volume I - Part 4 DD Other items you might want to order: