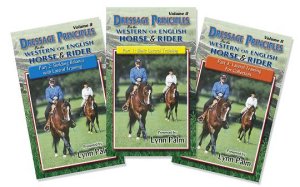 Dressage Principles Volume II Series (3 Parts)
Price $99.95
More Details
Other items you might want to order:
Dressage Principles Volume II Series (3 Parts) More Details
Dressage Principles Volume II Series (3 Parts) for the Western Horse and Rider.

No matter if you are a Western or English rider, if you've mastered the basic flatwork presented in the Dressage Principles Volume I DVD series, it is time to take the next step with Palm Partnership Training and master the Dressage Principles Volume II Series.

Save money with this complete, 3-part DVD series, or purchase individual DVDs from this series.

LYNN RECOMMENDS: This series is the successor to Dressage Principles Volume I. Each lateral movement in this series is demonstrated in both the English and Western saddle and is absolutely necessary to build the horse's correct balance for collection. Part 1 teaches proper responses to the leg and rein aids while moving laterally. Parts 2 and 3 will build upon Part 1 with increased difficulty and lateral movement. Each part also demonstrates troubleshooting for common problems of horse and rider. This series is not for the beginner, but for the rider seeking lighter responses and advanced collection.
Dressage Principles Volume II Series (3 Parts) Other items you might want to order: