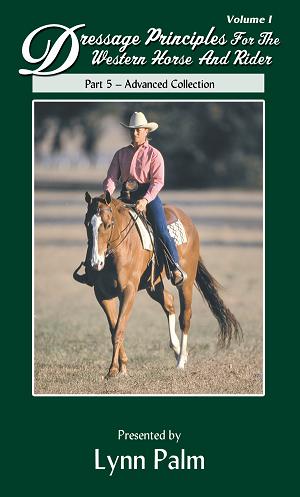 Dressage Principles Volume I - Part 5 DD
$34.00
$22.10 On Sale!
You Save
More Details
Other items you might want to order:
Dressage Principles Volume I - Part 5 DD More Details
Part 5: Advanced Collection

Advanced bending, counter bending, half pass, and counter canter are all built into many exercises to improve your horse's flexibility, suppleness, and coordination. The curb bit is introduced to gain a greater control of the horse's balance. Training your horse for flying lead changes is demonstrated through advanced transitions and lateral work in many different exercises.

Whatever breed of horse you're training, ADVANCED COLLECTION is teaching your horse to balance himself from the hindquarters, allowing the forehand to come up and get lighter - with the head breaking at the poll. This DVD shows a horse with no collection, slightly collected, and with a maximum of collection. Lynn also demonstrates "over collection" (horse's nose behind the vertical) and "balance on the forehand." In both cases you will see the horse moving poorly and not responding well to the rider's aids.

Learn to maneuver your horse with lightness and ease. Experience TRAINING THE LARK WAY for the ultimate bond of Love, Acceptance, Respect and Kindness between both horse and rider.

Time: 50 minutes

LYNN RECOMMENDS: This series is recommended for all riders regardless of skill level or riding interest. Part 1 will assist the beginning rider in finding his balance or the more advanced rider in achieving perfect balance. Part 2 will hone the rider's aids communication including the use of the seat, leg and rein aids. With the proper use of the natural aids, the horse will respond with lightness, acceptance and confidence. Parts 3, 4 and 5 apply to training a young horse under saddle or retraining an older horse to respond with more confidence and control. Part 3 is a great introduction to taking proper leads and the canter itself. Part 4 is great to improve transitions and speed control in all three gaits. Part 5 will begin and advance collection with lateral training, counter canter and simple and flying lead changes. Dressage Principles for the Western Horse and Rider demonstrates the epitome of Palm Partnership Training—using Dressage Principles for all breeds of horses and all levels of riders.
Dressage Principles Volume I - Part 5 DD Other items you might want to order: