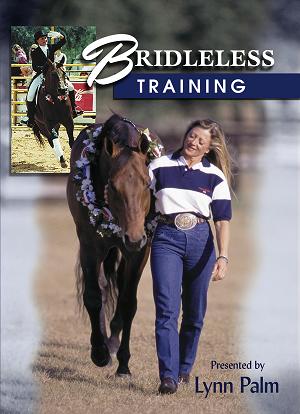 Bridleless Training DD
$34.00
$22.10 On Sale!
You Save
More Details
Other items you might want to order:
Bridleless Training DD More Details
Bridleless Training is for the rider as well as for any breed of horse in any discipline. The important benefit of the rider's use of seat and leg aids is stressed, taking the emphasis off the hand aids which allows the rider to communicate more clearly with the horse. You become a more confident rider and improve rider balance problems caused by improper use of your hands. You'll learn to ""read"" your horse and understand where he carries his natural balance. This DVD provides excellent training techniques for older horses, for horses that have problems accepting a bit, and is excellent for horses that show signs of resistance as it provides a technique to get them to slow down and accept what they are doing. Using horses in different stages of training, Lynn demonstrates steps that must be followed and carefully evaluated before you advance. Ground training, numerous types of maneuvers, and many stages of training were involved in this unique bridleless training method. The final segment demonstrates the advanced horse, using Rugged Lark to show you the results of training through Love, Acceptance, Respect, and Kindness.
This DVD can help you mark a new beginning in the relationship you have with your horse. However, always remember the many safety tips Lynn uses as an important part of all you do whether you are riding and or training.
LYNN RECOMMENDS: Bridleless Training is excellent for the rider who needs to learn to ride from the waist down. A heavy handed rider or one who balances through the arms or hands will benefit from this training. Bridleless training is for the broke horse who has had harsh bits or training on the forehand. Riding bridleless will allow the horse to carry his head/neck in a natural position and lighten the forehand by encouraging a correct uphill balance. The DVD goes with the Neck Rope for riding bridleless and follows a natural progression. This training is great fun!
Bridleless Training DD Other items you might want to order: