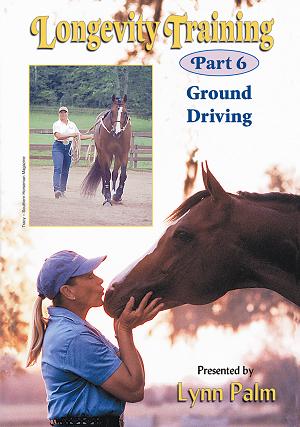 Longevity Training - Part 6 DD
$34.00
$22.10 On Sale!
You Save
More Details
Other items you might want to order:
Longevity Training - Part 6 DD More Details
Part 6: Ground Driving

After longeing, ground driving is the next step in advancing your horse's ground training. By using voice commands that your horse learned in his "in hand" and "longeing" sessions, he will learn to give to rein pressure while changing gaits through walk, trot and canter, turning, stopping and backing.

For the young horse, ground driving is an ideal way to develop strength, fitness and coordination without the additional weight of a rider. It also establishes the foundation for a successful future under saddle. Additionally, ground driving can be used to soften the mouth of an older horse that has become resistant or unwilling.

In this DVD, Lynn will discuss how to outfit your horse with the proper equipment for ground driving. Lynn then follows the steps of sacking with the lines and dragging them behind the horse until he totally accepts them. Once Lynn begins driving, she will demonstrate patterns to follow and will show how to correct common mistakes.

Because ground driving can be a low stress form of exercise with great benefits and results, it is an excellent technique that brings variety to your training and will contribute to the longevity of your horse.

Time: 41 minutes

LYNN RECOMMENDS: This series compliments the Dressage Principles Volume I Series if you are training a young horse from the beginning on the ground and under saddle. Parts 1-3 can be used for a weanling, yearling and two year old. Parts 4-6 are geared more toward the 2 and 3 year old horses. However, the whole series can be used to retrain an older horse. The Longevity Training on the ground relates to everything needed under saddle to improve the horse's training.
Longevity Training - Part 6 DD Other items you might want to order: