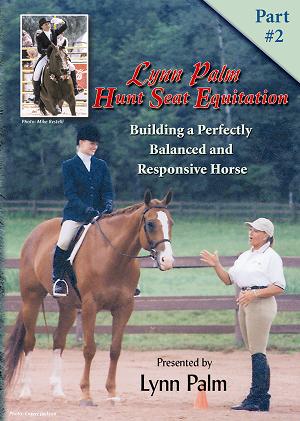 Hunt Seat Equitation - Part 2
Price $39.95
More Details
Other items you might want to order:
Hunt Seat Equitation - Part 2 More Details
Part 2: Building a Perfectly Balanced & Responsive Horse

This DVD is truly the perfect link between Part 1 and Part 3! You are ready to learn or refine aides coordination and control of the horse's body position. Lynn will show you a variety of maneuvers and figures that will teach you how to coordinate your aides to allow your seat, legs and hands to work together and not against each other!

Controlling each part of the horse's body position through the rider's aids, Lynn demonstrates how to obtain a balanced horse. A wide variety of practice patterns will show you how to correct and/or improve your aides communication. Your goal is putting your horse in his correct balance.

You will not find any gimmicks or quick fixes in the DVD, but you will find suggestions and tips to help you create a long lasting partnership with your horse.

Remember:
Relentlessly perfect your ability to communicate directly with your horse. Your horse will only respond more happily and effortlessly!

Time: 60 minutes

LYNN RECOMMENDS: This series is for the beginning Hunt Seat rider as well as the avid competitor. Part 1 will give the tools needed to achieve perfect balance in the English saddle through different exercises both on and off the longe line. Parts 2 and 3 are geared toward the competitor offering tips on components of a pattern, strategizing and effective rail work. Lynn critiques riders from a judge's point of view for more confident riding in the show ring. The Show Ring Strategy also applies to the Western pattern classes to brig more success in the show ring!
Hunt Seat Equitation - Part 2 Other items you might want to order: