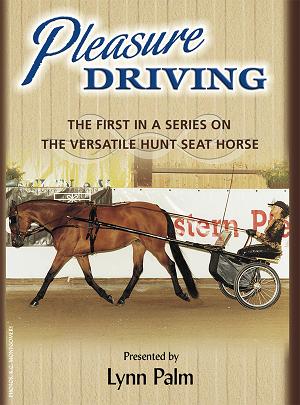 Pleasure Driving
Price $39.95
More Details
Other items you might want to order:
Pleasure Driving More Details
World Class Trainer, Lynn Salvatori Palm, is recognized internationally for her training and instructing ability. Pleasure Driving, offers so much more than meets the eye!

"PLEASURE DRIVING" is an introduction to the "Versatile Hunt Seat Horse" Series. It includes valuable information pertaining to the basic selection of desirable "hunter-type" confirmation traits. Important "ground handling" is also included.

Throughout this instructional film, Lynn demonstrates step-by-step how to correctly teach your horse to pull a cart. You learn how driving teaches your horse valuable basics that go far beyond a pleasure driving class. For young horses, Lynn shows how, without stressing their young legs and backs, driving provides strength, fitness and obedience. It also teaches the horse to travel straight and to respond to your voice, long before you begin mounted work.

Pleasure driving is a unique and rewarding experience. Whether you use it in competition or just for fun, it builds a horse's mental and physical condition. Driving will make him a strong athlete or a solid competitor in every event!

LYNN RECOMMENDS:
Pleasure Driving is a must for handlers who want to break and train their horse to pull a cart. This slow but very effective approach to driving has helped hundreds of handlers with horses from minis to drafts. Driving is also beneficial for horses with poor attitudes. Driving will improve his performance under saddle by encouraging fun, stress free training sessions!
Pleasure Driving Other items you might want to order: