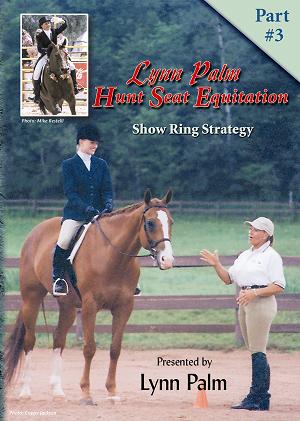 Hunt Seat Equitation - Part 3
Price $39.95
More Details
Other items you might want to order:
Hunt Seat Equitation - Part 3 More Details
Part 3: Show Ring Strategy

Here is the Hunt Seat DVD that will take you to the top! In this DVD, Lynn will help you with the final polish that turns out a winner!

In the beginning, we start with the proper Hunt Seat attire and how it should fit. Then we move on to provide you with show ring strategy for rail work and patterns. This will give the judge those good first impressions you need in order to be a winner. You will learn to prepare yourself as a mentally positive rider. Rail work strategy allows you to give the judge his best opportunity to judge you. This will also help in all pleasure classes!

Lynn will guide you through a wide variety of patterns covering most of the disciplines required in Hunt Seat Equitation. You will learn to ride your patterns with correctness, precision, sharpness, and fluidity. If you do not compete, or are an instructor, this DVD will offer you a great education and bring fun into your lessons.

Remember:
As a competitor, you never get a second chance to make a first impression!

Time: 80 minutes

LYNN RECOMMENDS: This series is for the beginning Hunt Seat rider as well as the avid competitor. Part 1 will give the tools needed to achieve perfect balance in the English saddle through different exercises both on and off the longe line. Parts 2 and 3 are geared toward the competitor offering tips on components of a pattern, strategizing and effective rail work. Lynn critiques riders from a judge's point of view for more confident riding in the show ring. The Show Ring Strategy also applies to the Western pattern classes to brig more success in the show ring!
Hunt Seat Equitation - Part 3 Other items you might want to order: