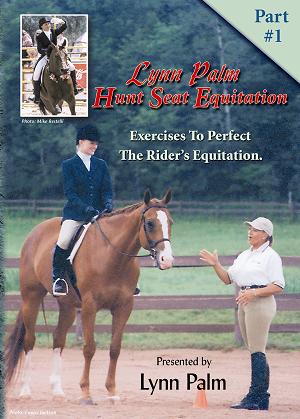 Hunt Seat Equitation - Part 1
Price $39.95
More Details
Other items you might want to order:
Hunt Seat Equitation - Part 1 More Details
Part 1: Exercises to Perfect the Rider's Equitation

If you are a beginner rider, a competitor, or simply wanting to learn to ride Hunt Seat, this tape will help you learn or perfect your equitation.

This DVD covers the proper use and fitting of Hunt Seat tack and the English bits most commonly used. You will learn the importance of the rider's position.

If you are serious about your riding, this DVD will offer you the guidance you are seeking as you get started on this 3-part series to improve your Hunt Seat Equitation.

Time: 70 minutes

LYNN RECOMMENDS: This series is for the beginning Hunt Seat rider as well as the avid competitor. Part 1 will give the tools needed to achieve perfect balance in the English saddle through different exercises both on and off the longe line. Parts 2 and 3 are geared toward the competitor offering tips on components of a pattern, strategizing and effective rail work. Lynn critiques riders from a judge's point of view for more confident riding in the show ring. The Show Ring Strategy also applies to the Western pattern classes to brig more success in the show ring!
Hunt Seat Equitation - Part 1 Other items you might want to order: