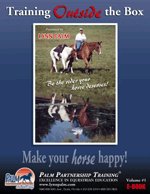 Outside the Box eBook
Price $19.95
More Details
Other items you might want to order:
Outside the Box eBook More Details
Are you looking for fun ways to train you and your horse outside of an arena? Are you looking to make your horse happier? Is your horse lazy? Are you bored in an arena riding? Does your horse need experience to work other places?

Please let me take you outside of the arena with step by step training. I will give you lots to training techniques that will give you a safe and fun experience! You can even have a great cookout with your friends on the trails and still train your horse!

Take some of my fun ways that I trained my first World Champion, training him 90% of his training "Outside the Box"!

Please let us know how you do on our message board after following our 1st E-Book~!
Outside the Box eBook Other items you might want to order: